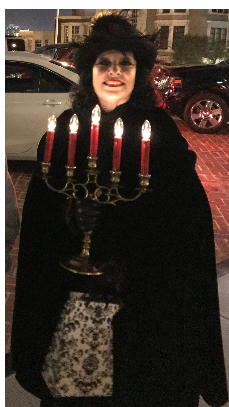 The Vampire Tour of San Francisco is a walking tour of the beautiful Nob Hill area of San Francisco. The stops are: Grace Cathedral, the Nob Hill Cafe, Huntington Park, the Pacific-Union Club, the Fairmont Hotel, and the Mark Hopkins Hotel. The regularly scheduled tours will be conducted on the first Saturday of each month from May until October, and of course on Halloween. If you plan to purchase your ticket at the tour, please bring cash. I am also available for a private tour all year around when my schedule permits. Private tours must have at least 10 people attending and are paid for in advance. The cost for a regular tour or a private tour is $30.00 per mortal. Undead are admitted free, but proof of status is required.
Nob Hill can get pretty chilly at night, so please dress warm and wear comfortable shoes. There are no hills on the tour. It takes place on top of Nob Hill where it is flat land. It is a very easy and comfortable walk and is wheelchair friendly.
The tour begins promptly at 8:00 pm and ends at about 10:00 pm. We meet on the corner of California & Taylor Streets, on the side of the street where the park is, across the street from Grace Cathedral. The tour ends at the Mark Hopkins Hotel on the corner of California & Mason Streets, which is one block from where we start.