"This is a 5-star review for the Nob Hill Vampire Tour, which has been around for years! Kitty is the historian, escort, lecturer, storyteller par excellance. Five of us were enthralled with her stories and fascinating historical references. Bring a coat, a hat, gloves, a shawl! It's cold on Nob Hill. Great SF Tour!" Review on Yelp!
"You and your tour will be the highlight of my trip! It will be difficult for other tours, events, or places to be more fun. You really know how to entertain people." E-mail Message from Tourist
"I wanted to take a moment to thank you for the tour on Friday. We really enjoyed ourselves during the tour. You've got a great, fun thing going, and I hope you can make it go great. If there's anything I can do to help, let me know." E-mail Message from Tourist
"I had a wonderful time on the tour last Saturday night!." I will definitely include information about your tour in the packages I prepare for my customers traveling to San Francisco!" E-mail Message from East Coast Travel Agent
"So chilling are her tales of vampires' history in the neighborhood, even the most skeptical tour-goer starts protecting his neck." San Mateo Times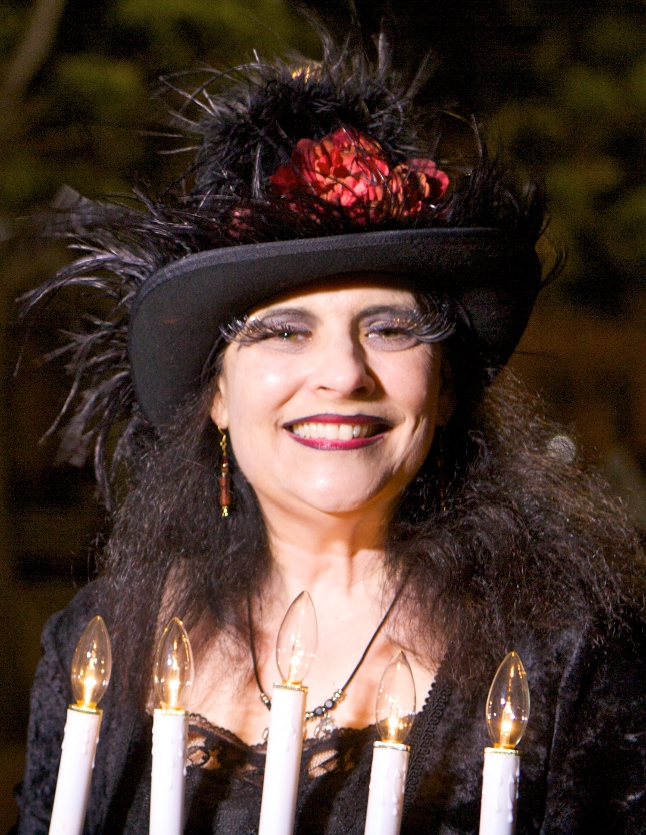 The Vampire Tour of San Francisco has been featured on HBO, Showtime, the History Channel, the Travel Channel, the Learning Channel, CBS National News, and several local San Francisco news and talk shows and radio broadcasts. The tour has also been covered in Newsweek, Sunset Magazine, Via Magazine, and several horror magazines world-wide.
"Burns, who moonlights as a playwright and actress, has created a chilling script for her San Francisco Vampire Tour, which leads locals and tourists on a two hour walk. In addition to the wacky vampire stories, she divulges lots of intriguing history about the City." San Francisco Chronicle